Today we're discussing how to perform a "Quick Image Quality (IQ) Check" on a Philips system. The Quick IQ Check consists of one air calibration and an axial scan, allowing you to measure the main image quality parameter of a CT image.
WHY IS THIS IMPORTANT?
If your machine's image quality is low, a radiologist might have difficulty detecting and interpreting the images during a patient's CT scan. It is important the machine's IQ meets OEM standards.
HOW TO PERFORM A QUICK IQ CHECK:
Step One: Position the water layer of the head phantom in the center of the scan circle, and zero the couch position.
Step Two: From the Home window, click Quick IQ Check on the utility menu (see Image 1). The Quick IQ Check menu displays.
Step Three: Click the Automatic Test button in the Quick IQ Check menu (see Image 1).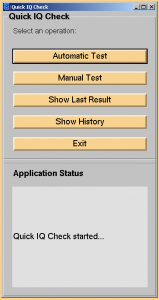 Image 1
Step Four: Click the Scan button when the Warning sign pops up (see Image 2).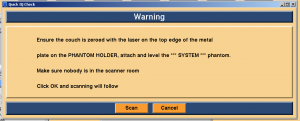 Image 2
Step Five: Wait approximately two minutes.
Step Six: Check that all defined tests have passed (see Image 3).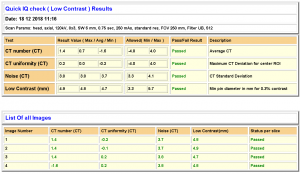 Image 3
Step Seven: If all tests passed, next stop: clinical scanning!
All product and company names are trademarks™ or registered® trademarks of their respective holders. Use of the trademarks is solely for identification purposes, and does not imply any affiliation with or endorsement by the trademark holders.