Why is the system/tube startup important?
The daily startup is important because the Canon/Toshiba* CT scanner is a Windows-based system. A routine daily restart allows the Windows software to complete any necessary file cleanup along with the closing and storage of log files recorded by the CT application software. This will help keep the system software performing to its best ability.
What is the proper system startup sequence?
From the console, turn on the power switch.
Allow the system to boot fully. If this is the first use of the scanner for the day, the scanner will automatically initiate a tube warm-up. Begin a tube warm-up by pressing the Start button on the Scan console and allow it to complete.

Perform any QA scans that are required by the facility and/or site physicist. The QA scans can be useful in checking for artifacts and any shift in CT numbers, indicating a possible problem with the scanner. Shown below is an example of a QA scan completed for a medium water phantom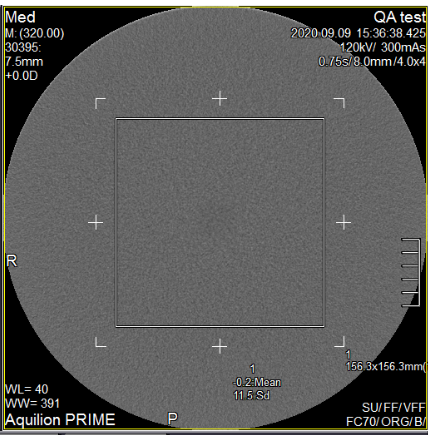 This image shows a typical QA scan using the TOS phantom supplied with each scanner.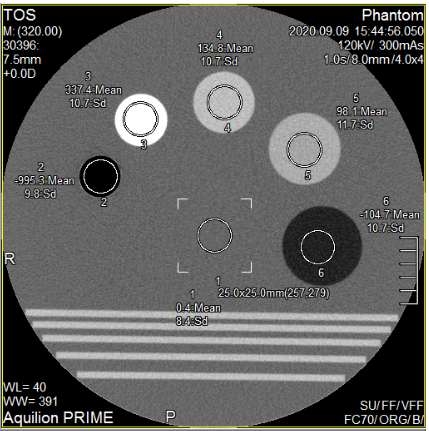 The system is now ready for use.
When should the system be restarted?
The CT system should be restarted every day. Early morning hours in a hospital or first thing in the morning in an imaging center are typically the best times to reboot the scanner. Doing the daily startup during the slower hours of operation will minimize disruption to the patient care schedule.
Who should do the daily system startup?
For consistency, it may be best to have the same person complete the startup/QA routine.
What is the proper tube startup/warm-up?
A tube warm-up should be done before a clinical scan when the tube OLP has dropped below 20%. Doing a tube warm-up before the clinical scan will prepare the tube for a potentially higher kV/mA exposure used during a clinical scan. These exposures should not be made on a cool tube, whenever possible. In the latest release software, you initiate a warm-up by clicking on the Tube(OLP) window on the main screen.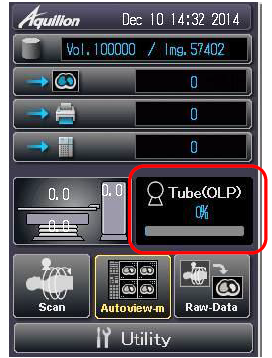 24/7 Technical Support Available
If you encounter problems during startup, remember our tech support team is available 24/7. We are here to help day or night, weekend or holiday. 704-739-3597
*All product and company names are trademarks™ or registered® trademarks of their respective holders. Use of the trademarks is solely for identification purposes, and does not imply any affiliation with or endorsement by the trademark holders.