This employee spotlight series is dedicated to highlighting Richardson Healthcare's strongest asset: our team.
This month, meet Jerald Olsen, our VP of Sales, Operations, & Business Development!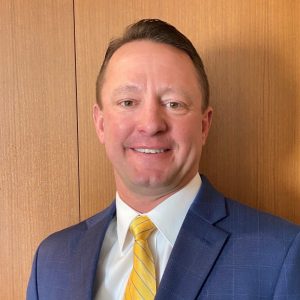 Meet Jerald Olsen
1 – How long have you been with Richardson Healthcare?
I've been with Richardson since February 2018
2 – What are your hobbies/interests?
Hunting, fishing, cycling, skiing, and surfing. If it happens outside, you'll find me there with a smile on my face!
3 – What do you like most about working for Richardson?
We help our customers solve real-world problems every day. We help them control their costs and keep them competitive in a very competitive market segment.
4 – What is your dream vacation? 
Fly fishing for giant trevally and bonefish on the Christmas Islands for 10 days.
5 – Favorite customer success story (after-hours)?  
We had a site in rural western Wyoming order a replacement X-ray tube for a Canon CT system. After we reviewed the error logs and history, we determined they needed a high voltage multiplier and high voltage cable. We saved them a lot of money and time since they did not have to uninstall their current tube and install and calibrate a new tube.  We did not get the X-ray tube sale that day; instead, we have a customer for life, which made me happy.
6 – What has been one of your proudest moments working at Richardson Healthcare?
My proudest moment was being able to join the engineering team to install the first ALTA750® X-ray tube at the beta site where the first clinical images were taken using our X-ray tube. It was the pinnacle accomplishment for our team at that time where we were a new player entering into the X-ray tube world.
7 – Fill in the blank: I once met… 
Doug Miller of Doug Miller Outdoors, and later we would become good friends and film many TV shows together. When he suddenly passed away of colon cancer I worked with the Miller Family in 2006 to hold the "Doug Miller Tribute Event" which raised $250,000 for conservation. As a result, today a 450-acre wetland project is named after Doug Miller on the Farmington Bay Wildlife Management Area in Farmington, UT. This project is great spring waterfowl nesting habitat and provides waterfowl hunting opportunities for the public every fall.
8 – What three traits define you? 
Positive, competitive, and resourceful.
9 – What questions do customers ask the most? 
How soon can you get this part to me and why does it cost so much to ship X-Ray tubes?
10 – What is one thing you want people to know about Richardson Healthcare?
We're one of three divisions of a publicly-traded company, but we have maintained a family business feel and approach to supporting and taking care of our customers. We are in the best of both worlds big enough to survive the market ups and downs, but small enough to stay connected to our customers and our mission of supporting them.