This employee spotlight series is dedicated to highlighting Richardson Healthcare's strongest asset: our team.
This month, meet Danny Mokrzycki, one of our Account Representatives!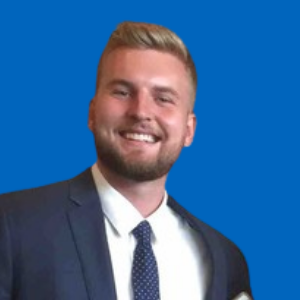 Meet Danny Mokrzycki 
1 – How long have you been with Richardson Healthcare?
I have been with Richardson since September 2019.
2 – What are your hobbies/interests?
I enjoy exercising (I've had to get creative recently), gaming, and hanging out with my two cats Twix and Lulu – the latter of which I clearly did not decide the name.
3 – What do you like most about working for Richardson?
The thing I enjoy most about working for Richardson is having large scale capabilities, but also having a team that makes you feel like your voice is heard day in and day out.
4 – What is your favorite food?
Italian Beef from Portillo's with mozzarella and sweet peppers – apologies to anyone that does not have a Portillo's within driving distance.
5 – Where/What is your dream vacation?
I already took my top dream vacation when I went to Australia for 2 weeks in 2016, but I would love to go to Japan one day and experience that culture, and maybe try some authentic Wagyu Beef as well.
6 – Favorite customer success story? (after-hours)
Any time we are able to get a part on-site within a few hours of the request.
7 – What's been one of your proudest moments working at Richardson Healthcare?
The first time I was able to coordinate an after-hours order to get a site back up and running. I felt like I helped and made a genuinely positive impact for those that rely on CTs for their health and well-being.
8 – Fill in the blank: I once met…
I once met Mike Ditka at his restaurant in Chicago. We asked if he was in the restaurant as a joke and the waitress said he is actually here now, so we asked if we could meet him, again thinking there'd be no way. She went away for 10 minutes and when she came back she said that we were welcome to go meet him upstairs. When we got upstairs, he was playing poker with his boys and smoking a cigar, and I got to shake his hand (still the firmest handshake I've ever received).
9 – If you could pick one superpower, what would it be?
The ability to time travel. It would be awesome to go visit ancient cultures but also to rewind 5 minutes to redo everyday occurrence's that I wish had played out differently.
10- What are five words (or less) of advice for others in your profession?
Be ready at any moment.
11- What chore do you absolutely hate doing?
Folding laundry. Washing is easy because I don't separate my colors and whites (no judging), but when it comes to folding and putting it away, it's just not something I enjoy.
12- If you could meet anyone, living or dead, who would you meet?
Probably my Grandpa on my Mom's side. He passed away when I was 1 so there are pictures of him holding me but I have no memories of him in my life. It would be awesome to have a beer with him as an adult.
13 – What three traits define you?
My positive attitude, competitive spirit, and attention to detail
14 – What would you most like to tell yourself at age 13?
Growing up is cool and all but enjoy the moments you have now where you have little to no financial responsibilities.
15 – What is the question you get asked the most from your customers?
Almost every customer begins a call by asking if they can get pricing/availability on a part.
16 – What is one thing you want people interested in RHC to know about our company?
We take feedback from our customers very seriously and value the relationships we have built. At the end of the day, we know our company's best interest is keeping others' best interests in mind.